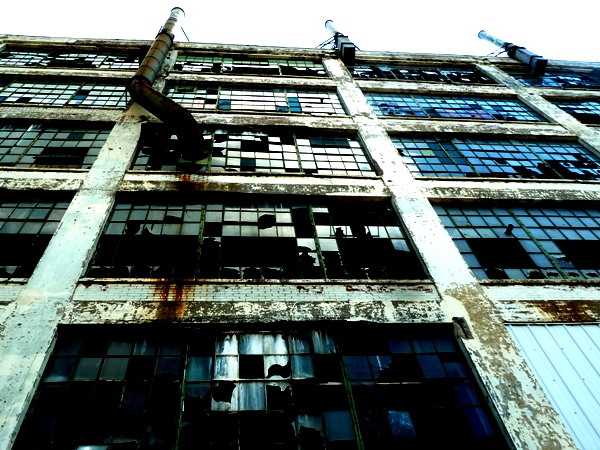 Detroit Photo - August 2014

2016--This year my focus is on functional pottery making. I have taken a leave of absence from Edge Gallery so that I can concentrate my artistic efforts on making pots and selling at arts and crafts fairs around Colorado. I am also no longer at a Borgata in Conifer. In June this year I had a booth at the Pine Grove 28th Annual Rhubarb Festival and sold a bunch of pots. I also set up a table near Coyote Creek Gallery and South Park Pottery & Bead Shop in Fairplay, CO during their Burro Days Festival on July 31. Next, I will be gearing towards holiday arts and crafts, so I will be busy making, glazing and firing for the next two months. I am adding a Pottery Page to my website, so check it out!
In addition to pottery-making, my work includes painting, assemblage, drawings, sculpture, photography, performance art, writings and multi-media installations. I was born in Detroit, Michigan, and moved to Colorado in 1975. My work has been shown locally, nationally and internationally. Since 1997 I have been a member of Edge Gallery, a cooperative gallery in Denver, Colorado. After living in the city of Denver for twenty years, ten years ago I moved to the foothills where I enjoy working out of my studio in a small mountain town.

Your inquiries and correspondence are appreciated: jomacx@msn.com

Website Navigation: This website has pages that are accessible with the tabs that are at the top of all the pages. Images are on the pages as well as in the photo album which is accessed by clicking the "View Photos" button on the right side of each page. The photos are grouped by series. Often there are additional images available in each series--please email me if you would like to see additional images. Additional information about each series is available under the "News Releases/Art Info" tab.
Information about current and upcoming exhibitions
and other items of interest
Upcoming & Current
2016 Holiday Craft Fairs--TBD
Burro Days Festival, Fairplay, CO (pottery)
June 2016: Pine Grove Rhubarb Festival (pottery)
March 2016: Community Print Show, Edge Gallery, Denver, CO
November 20 - December 6, 2015: Artistically Modified at Edge Gallery, 3658 Navajo St, Denver, CO
Links
Email: jomacx@msn.com
Link to Edge Art Gallery www.edgeart.org
Visit me on Facebook: www.facebook.com
a Borgata, Conifer, CO: http://www.aborgata.com
Art of Travel: www.art-of-travel.com
Terri Bell gallery: www.tbellphotographic.com
Lorraine Miller Website: St. Clair Flats and McDonald's Island:
http://home.comcast.net/~pwmeek/flats/guest/lillmill/index.html
http://blog.seniorennet.be/lillmill/archief.php?ID=4
North Denver Tribune:
http://www.northdenvertribune.com/2010/01/navajo-street-art-district-website-is-launched/
Daniel deCournoyer, Artist, Quebec, Canada:
Photo from "Consequence Series"