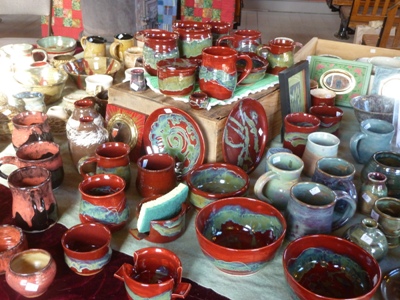 My current focus is pottery-making, but my work also includes

painting, assemblage, drawings, sculpture, photography, woodblock printing, performance art, writings and multi-media installations. I was born in Detroit, Michigan, and moved to Colorado in 1975. My work has been shown locally, nationally and internationally. I recently left Edge Gallery in Denver where I was a member 1997-2017. After living in the city of Denver for twenty years, thirteen years ago I moved to the foothills where I enjoy working out of my studio in a small mountain town.

Please look at my photo album for images of work--see link on right sidebar. Check in to my blog page (on menu) from time to time for some miscellaneous musings about art and life.
Your inquiries and correspondence are appreciated: jomacx@msn.com
**********
Information about current and upcoming exhibitions, etc.
2021:
Holiday Sale--Not sure this will happen this year
**************
RECENT PAST SHOWS
Pine Grove Annual Rhubarb Festival -- Saturday June 12, 2021, 7:30 am - 2:30 pm (Directions below*)
Rhubarb and Holiday Sales Cancelled in 2020 due to Covid-19
Edge Gallery: Time Zone Group Show: May 3-19, 2019; 7001 W. Colfax, Lakewood, CO ; Fridays 6- 10 pm, Sat, Sun 12-5 pm
Come and visit my booth at the Pine Grove Annual Rhubarb Festival -- Saturday June 8, 2019, 7:30 am - 2:30 pm (Directions below*)
HOLIDAY SALE IN PINE GROVE 2018
Pinestock--a Music Festival in Pine Grove--Saturday, August 18, 2018--Music ongoing Noon until 9:00 pm
Rhubarb Festival in Pine Grove-- Saturday, June 9, 2018--7:30 am to 2:00 pm
Pine Grove/Highway 126 Sale during two tree cutting weekends--
November 24, 25, 26 and December 3, 2017
"Through the Looking Glass"--Group Show--September 15-Oct 16, 2017 at:
Commonwheel Art Gallery, Manitou Springs----
********************
*Note: Directions for sales in Pine Grove, Colorado
From Denver--Take Hwy 285 South to Pine Junction (first light from Denver--past Conifer)
Turn Left at Pine Junction onto Hwy 126/aka Pine Valley Road and drive 6.5 miles to Pine Grove.
Community Center is a white wooden building at 7th Street as you drive into town--look for signs.
Website Navigation: This website has pages that are accessible with the tabs that are at the top of all the pages. Images are on the pages as well as in the photo album which is accessed by clicking the "View Photos" button on the right side of each page. The photos are grouped by series. Often there are additional images available in each series--please email me if you would like to see additional images. Additional information about each series is available under the "News Releases/Art Info" tab. Links
Email: jomacx@msn.com
Link to Edge Art Gallery www.edgeart.org
Visit me on Facebook: www.facebook.com
a Borgata, Conifer, CO: http://www.aborgata.com
Art of Travel: www.art-of-travel.com
Terri Bell gallery: www.tbellphotographic.com
Lorraine Miller Website: St. Clair Flats and McDonald's Island:
http://home.comcast.net/~pwmeek/flats/guest/lillmill/index.html
http://blog.seniorennet.be/lillmill/archief.php?ID=4
North Denver Tribune:
http://www.northdenvertribune.com/2010/01/navajo-street-art-district-website-is-launched/
Daniel deCournoyer, Artist, Quebec, Canada: