JOAN'S BLOG--2014 TO PRESENT (2021)
September 29, 2021


This is my current finished project--finished in August. My plants needed a place to be safe from deer, mice, chipmunks, golden mantle squirrels, birds and lizzards so I designed and built this cabinet so I could enjoy plants outdoors on my patio.
Rhubarb Festival in June was successful--I sold lots of pots and met lots of nice people who were out to enjoy the festival and a sunny day in Pine Grove.
November 20, 2020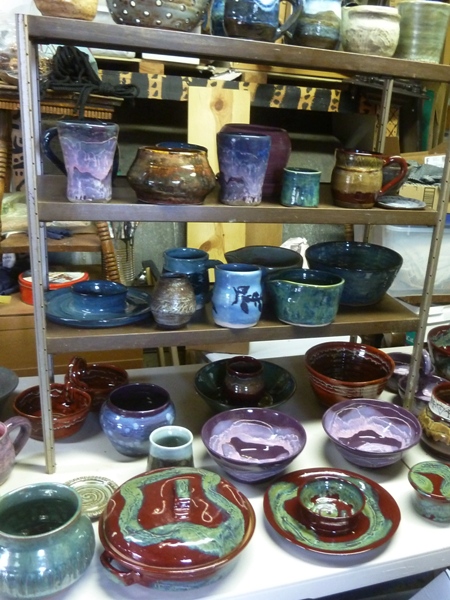 Lots of new pots--over 100--mugs, casserole dishes, salsa dishes, colanders and more! New glazes and colors! I've been working hard to bring all these new pots to fruition. No show this fall due to coronavirus, but maybe Rhubarb Festival in June 2021--2nd Saturday. More news to come.
I hope everyone is staying safe and healthy.
May 22, 2020:
COVID-19 has hit and is disrupting life around the world. For me personally, it has impacted my summer plan of having a booth at the 33rd Annual Rhubarb Festival that has been cancelled due to the virus. My work for $ has also been impacted, especially my work for a travel agency. Meanwhile, I am starting to work on making new pottery for a sale in the Pine Grove at the Community Center as I started doing about 4 years ago. The good aspect of not having a show in June is that I have been spending time working on my yard. I made a small patio extension with slate and put together a swing that will offer a relaxing way to break up my summer days. I'm trying to figure out how to have a few flowers around the yard that will not be eaten by voles, chipmunks and/or deer. It is always a challenge to create a garden in the mountains. I've pretty much given my yard up to the wild things--between critters, poor soil and too little water, it isn't worth the fight to grow vegetables--instead, I can always go to a farmers market or Heinies. I would like to have a few flowers, so I will try to come up with some type of solution to keep nature at bay. Enjoy your summer and stay healthy!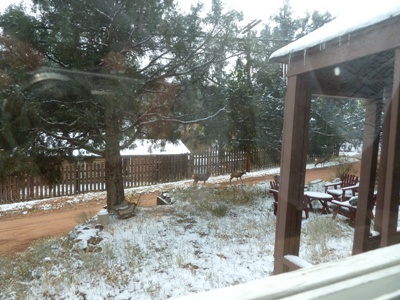 First snow October 2019
October 15, 2019
* I have started making new pottery for the Pine Grove Holiday Sale (after Thanksgiving) at the Community Center--November 30, Dec 1, Dec 7, Dec 8: 8:30 - 4:30 pm-- 2 weekends--4 days. I plan to have some new items and some standard green/red pots as well as purple items. This summer there were lots of interruptions, including lots of working for $ and dog-sitting in Denver for two weeks and cataract surgery in July. But--I'm back at it and working for $ has abated so I can better focus creative energies on making some new pots with some different glazes and experimental items. Just getting dirty and playing in the mud! I am wishing I had made better use of the summerl because using my garage studio is much more practical than trying to do everything inside the house. The garage studio is not heated and unvitrified pottery and glazes can't freeze, so everything comes into the house when it gets cold. But, I can do this!!! I look forward to seeing friends at the sale when I can kick back, knowing everything is done, and enjoy visiting with whomever comes in the door of the Community Center.
* Another Project I'm currently in the process of finishing up is my Dad's book: Dad's Stories of McDonald's Island and the St. Clair Flats. I have been working on this book since 1991. I interviewed my dad, Lawrence MacDonald, in June 1991, six months before he died. Growing up hearing his stories, I wanted to preserve them in his own words before he was no longer around to tell them. In December 1992 I used his stories, my stories and my childrens' stories as well as 14 other individual stories in my MFA thesis art show at the University of Colorado, Boulder, CO. Several years later I transcribed all the stories and over the years, periodically worked on organizing the stories and inserting my comments to give some background for those who weren't familiar with the family story and with the St. Clair Flats area of Michigan. It is an area that is about 50 miles from Detroit along the Detroit River that is also known as the St. Clair River beyond the Detroit area. The book details family stories/oral traditions from my dad's and grandparents' times and more. Dad was born in 1913; his father and uncles homesteaded McDonald's Island starting around 1900. It was a different era and time that I feel needs to be documented for the historical value as well as giving an insight into how people lived pre-technology on an island that didn't have electricity untill 1963. Those of us who grew up spending time on McDonald's Island and Sears Island and other islands in the St. Clair Flats have been profoundly influenced by the magic of the island and the river that connects Lake Huron to Lake St. Clair and Lake Erie and all the Great Lakes of Michigan. I look forward to finishing the book and at least distributing some copies to family members before the end of 2019.
January 18, 2019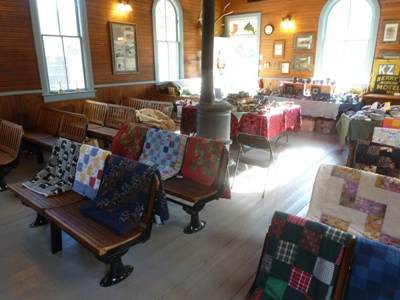 Winter is here and time to start making new pots. Above is a photo from our holiday sale at the Community Center in Pine Grove, CO.
Kathryn Wenderski joined me with her handmade quilts, knitted hats and more. It was a fun time and we even sold a bunch of stuff!
September 28, 2018
It seems as if it is time to get out some of my feminist art pieces--don't have easy access right now, but will eventually post some photos.
Today is the day after the Kavanaugh hearing and one of the most telling tweets was from a female attorney who was Skyping with a
friend in Kabul who said "I see your country doesn't treat women any better"...
August 20, 2018
My booth with my good friend & helper Kitty seated.
PINESTOCK 2018: On Saturday, August 18, I had a booth and sold a bunch of pots. I was able to enjoy the beautiful setting here in Pine Grove and the music performed by several bands throughout the day. It was a festival of about 300 visitors--almost all of whom came and said hello and looked at my pots. It made for a fun day--seeing and talking to locals and people from other mountain communities.
August 6, 2018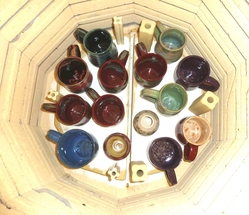 Since I started firing in January, I have figured some things out and have had successful firings. I'm learning about my kiln from firing and keeping records and using cones that tell me the temperatures on each shelf. I've also re-fired some pieces and they have turned out much better the second time around.
Currently, I'm trying to make larger pots--using 4-5 pounds of clay. I will stay at this level for awhile and when I feel confident, I'll crank it up a notch and try for 6 pounds, etc. Always a challenge. I've been trying new techniques--slip trailing and scraffito and especially like the Xiem slip trailing tool. I love the Santa Fe chocolate clay--it is easy to throw and I will be buying more in the future.
This month I will have a booth at Pinestock--our town music festival that happens every couple of years, here in Pine Grove--August 18, noon until 9 pm--music all day long--food and other vendors will be onsite. The festival's objective is to raise money for our cemetery improvements. We may have a new gate and sign by Aug 18! All local love labor makes things happen here in Pine.
January 15, 2018
First Firing--Kiln Disaster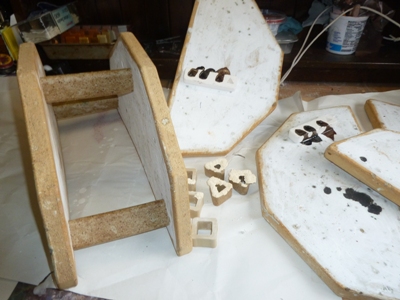 The first firing of my kiln a couple of days ago was not successful. To say the least. Two good things, however--1) only test tiles were lost--no pottery; and 2) the kiln definitely works and heats up. What happened was my manual said firing should last 5-7 hours. I did not know whether that included two hours of heating up slowly, or if the 5-7 hours was on high heat. So, when I started looking at my witness cones to see what the temperature might be in the kiln, I could not see the cones. So, I thought that maybe it just hasn't reached temperature which may be caused because the outside temp during the day was about 45 degrees and when the sun went down, it was 28 degrees. Since the kiln was suposed to shut off automatically when it reached cone 06, I was beginning to gett a little anxious. I called a friend who wasn't available, then I went online to Clay Buddies' Facebook page. I got lots of suggestions and advice from the buddies and the bottom line was, "shut it off", so, that is what I did. When I opened the kiln the next day--the above is what I found--the cones had all totally melted that's (why I couldn't see them) and they melted to the shelf, some of the kiln posts stuck to the kiln shelves, etc. The worst was that the cone in the kiln sitter had melted and fused the parts together. I'm not sure how I'm going to get them separated. Fortunately, I bought a diamond grinding and diamond sawing attachments for my dremel tool. They will be getting some use. I'm going to buy a hazmat suit to wear when I do this grinding, plus use my respirator, etc. Grinding the melted items is a toxic job and needs cover-up precautions. Harbor Freight has these cover-up suite for $5.99...also learned from the buddies that sunglasses don't work for looking through the peephole into the kiln, so I looked online and Harbor Freight also has some welding glasses. HF will be SMA. Time to go shopping!
September 13, 2017
Commonwheel Gallery in Manitou Springs show: Through the Looking Glass
Joan's piece is "Cinderella Revisited"--6 framed images and 1 handmade artist book
The following are questions Commonwheel posed to me along with my answers. These, along with images, were posted to their blog: www.commonwheel.com/blog
THROUGH THE LOOKING GLASS/FOR THE BLOG
1) What did you envision when you applied for this show named "through the looking glass"? How does your artwork fit into the show theme?
When I applied for this show, I thought that if I got in, it would be a great incentive for me to finish a fairytale project that I began 25 years ago. In graduate school in 1992 I began the Cinderella Revisited book and illustrations for two classes. One class was a printmaking intaglio class and the other was for an art history class. The title of the project is "Cinderella Revisited." I rewrote the Cinderella story with the twist that it was Cinderella's talent that was noticed, not her beauty. I created etchings for the printmaking class that illustrated the story. I put the etchings and the text together into a book format and presented it in a slide lecture to my art history class.
After I graduated, I continued to work on the project and also rewrote the story for "Briar Rose". Instead of using the Cinderella etchings, I created new drawings for the book. I didn't find a publisher for the books, so they both sat for twenty years. Five years ago, I hand-colored the illustrations and prepared a layout for printing. At the time I was involved in other art projects and I never printed the books or the images. When I found out about the Commonwheel show, I decided to enter the Cinderella images. My thought was that if I got in, it would give me an excuse to prioritize the project. It did just that. I printed the illustrations, matted and framed them. I also started on the handmade artist book. I wasn't sure I could finish it in time, but I just finished it on Friday, so this show has been the push that I needed to bring this project to fruition.
2) What books/authors have inspired your piece(s)?
The fairytale story is based on the Cinderella story in Tales of Grimm and Andersen. It is a Grimm Brothers version of Cinderella that was used as a basis for my story.
3) What type of work/media are you submitting for this show?
6 Digital prints of the illustrations for the book and a limited edition (10) handmade artist book
4) Describe your artwork and the process you followed to design it? What is different/special/unique about it?
My initial thoughts were to create a more contemporary version of the Cinderella story that focused on her talents, rather than being chosen by the prince for her beauty. I tried to keep the magic and appeal of the original story, but with a different message for young girls. In designing the illustrations, I wanted to surround them with a border that reflected additional aspects of the story.
5) How long have you been doing/creating this type of artwork, or is it a new medium/technique that you are exploring? How did you learn the technique you are applying today?
Drawing is something I've done all my life and I have used digital printing for drawings and photographs for past work. Over the years I have made a handful of artist books. I took several workshops about five years ago and learned some techniques and made a couple of books. I was a member of a co-op gallery in Denver for 20 years and had a show every year so I did not have time to focus on making artist books (or on finishing the Cinderella Revisited project). In the time it takes to make one handmade book, I could make several paintings. The process is technical and time consuming and I am still learning the skills necessary to create the books that I envision. For this show, I had to learn how to do the Coptic binding stitch that holds the book together. I had never made this type of book before so I first made a prototype to try to figure it out and to learn from my mistakes. It definitely helped to make the prototype, in addition, I had two instruction books and bought a third book and also looked online at some videos.
6) What effect/emotions/thoughts do you expect to achieve from the public?
I hope the book will appeal to young girls and that parents will read the book to their children. Eventually, I plan to create a more commercial version of the book instead of just the handmade, limited edition version.
August 28, 2017--
The kiln has arrived and is still waiting to be installed. See image at right. That should happen soon.
Meanwhile, I've been working on a project that I started 25 years ago in 1992. Initially it was a project started during my last year of graduate school to satisfy requirements for an art history class and a printmaking class. For the art history class, I rewrote the Cinderella fairy tale into a tale for contemporary times. For my printmaing class, I created about six intaglio images that were printed and made into a book with text for the art history class to which I presented my project. After graduate school, I re-drew the images and put together black and white images and text into a prototype that I marketed to publishers. I also rewrote Briar Rose (aka Sleeping Beauty) and did some illustrations for that book. Alas, no publishers offered me a contract for either book. So, about five years ago I began working on the project again, hand-coloring my drawings and scanning them and the text into my computer and laying it all out. The book was basically ready for printing, but it was still a daunting project because I wanted to make it into an artist book, which would require hours and hours of work putting it together So, as usual, life got in the way and the book sat n the shelf for another five years. About a month ago I saw a request for entry into a Commonwheel Gallery show that was based on the theme of fairy tales in digital format. I entered the Cinderella Revisited book and got the images into the show. There are six images and I printed them out, matted and framed them for the show. After that was done, I decided to start working on the Cinderella Revisited artist book. I started sewing it together this weekend and got the three signatures completed and the artwork for the inside covers is partly completed. I have to put together the front and back covers and then figure out how I am going to put it all together. I need to work it out in a small scale sample, which is my next step, as well as finishing the inside covers. I love artist books, but I could complete several paintings or other works of art in the time it takes to put one book together. My end goal here is to finish Cinderella Revisited and then tackle Briar Rose Revisited. After these two artist books are completed, I plan to put the books online in one of the formats available at one of the "do-it-yourself" websites so I can sell them at a reasonable price and also sell the prints separately online. I'm a little overwhelmed, just writing about it, but I'm hoping it will all happen before the end of October. Let's hope it magically happens so I can move on to a more current project.
July 12, 2017
I bought a kiln...finally. However, it is in Silverthorne--about 1.5 hours away. I'm hoping to be able to get it soon. Then I have to get an electrician to figure out what electricity modifications are necessary and the cost.... Firing my first load is still a ways off, but I hope it will be sometime in August.
Open studios are going well--the final one is on this Saturday, July 15. I plan to open my studio again sometime late Sept and October. I should have lots of new pots by then. I've been making lots of bowls--I'm looking forward to decorating them after the bisque fire; some maybe before the bisque fire. I hope to use some of the new techniques I learned at a Washington Heights class with Sumi.
Meanwhile, I'm looking forward to having my studio back and am trying to create a space in the studio where I can have an on-going pottery display. The studio is just packed with stuff--lots of art from having a show at Edge Gallery almost every year for 20 years. Even though I have tried to make work that doesn't take up much space, it still takes up space and I have very little of it because I also need space in which to work.
May 25, 2017
I thought I'd talk about some of the studios I've had over the years. My very first studio was in about 1973 in my basement in Dearborn, Michigan. I had a fruit cellar that was in a corner of the basement with a small window and shelves for fruit. It was approximately 4' wide by 8' long. Since the shelves took up about 2 or the 4 feet, I stood about 2 feet from the paintings I was doing on canvases that hung on the wall. So much for backing up to see the painting at a distance. The rest of the basement wasn't very well lit so I opted for the area with the best light. When I moved to Colorado in 1975 I was still painting with oil paint and my bedroom was the studio in the duplex that we rented in unincorporated Westminster, CO. The room always smelled of turpentine, except when I was doing macrame. After I got separated in 1977 and divorced in 1978, I didn't have a studio for awhile until late 1978 when I moved in with a friend and had a 10' x 10' room in the lower level. It had a window, hanging lights that were like north light and a multitude of shelves and two large and sturdy working tables. It was my first real studio space and I felt fortunate to have a "room of my own". When I was a student at DU and at CU, I had studios at the universities. At home I first made my dining room into my studio, then switched it to the living room and it was also in the back bedroom for awhile. That was on Gilpin Street in Denver, close to DU. As you can see, I have no qualms about re-purposing rooms to suit my needs. After DU and before CU, I had a studio for a few months at the Sherman School, which was later purchased by Art Students League. It was a great space with running water and large windows--space for my tables, storage, etc. It was also a great artist community where I met many of the artists I'm still in contact with today. After CU I was living in North Denver where I rented a house that served me well in terms of a studio space. People, including my children moved in and out of this house and every time someone arrived or left, my studio space changed--from the living room to the dining room, to the back porch, to the small bedroom on the main floor. It was a fun time and a great neighborhood on Hooker Street where neighbors shared gardening secrets and plants. I had a "wild" garden in the front yard with more plants in the back yard. I brought part of my graduate installation into my back yard, complete with docks that served as walking space in the yard between structures that had been built for my thesis show. I had a studio in the Zook Building for a couple of years where studio space was inexpensive and where we had space to show our work and a good community of artists. My living arrangements changed and I moved my studio into my home on Mariposa Street. That was one of my favorite studio spaces--a 16 x 20' space that overlooked m small backyard garden. It was when I realized that I needed a studio space where I lived, rather than one that I had to walk or drive to. Currently I live in the mountains where I have a small room in the house that serves as my "winter" studio. My "summer" studio is in the unheated garage and is a great space when the weather is warm. Since I'm doing pottery now, the garage studio is the best option because it is spacious and there is room for storage of my lifetime of art-making. I am waiting for the weather to warm up so I can move the pottery wheel to the garage studio and have room to make, glaze and store pottery, as well as space to do other forms or art or carpentry as needed. For what it's worth, I wrote more than I planned here--I think this is more like Joan's complete studio history. If you don't get through the entire post, that's ok!
March 7, 2017
I'm not very good at this blogging thing. I don't know where the line is drawn between too much information and not enough information. I've been enjoying some down time since January 1, but it is probably time to start making again. Making for the Rhubarb Festival, thinking about an Edge Gallery show in 2017 or 2018--things that are happening in my head but with no actual tactile evidence.
Edge Gallery is in a state of flux. We moved out of our almost 25 year space at 37th and Navajo Streets and are looking for new space in the very expensive Denver retail landscape. We have members who are committed to staying with the gallery and making it into the place where art is happening in the alternative arts community. Transition is a little painful, but we're hoping to be back in the midst of the Denver art action sometime in the next few months.
August 8, 2016
It's all about pottery-making and selling this year. I am currently looking into fall shows during the holiday season. This is part of my new adventure and I hope I can keep up the pace of making, glazing, firing, marketing, etc. I have tried to make room in my life to be able to better focus on pottery-making. I took a sabbatical from Edge Gallery for one year, I stopped having a booth and working at a Borgata, I reduced my volunteer obligations and this frees me up to focus on clay, home, hiking, family, friends, etc.
I am still experimenting with glazes and buying new commercial glazes. I will probably always be experimenting and learning; may eventually experiment with glaze formulas and gas firing. I still don't have my own electric kiln, but I guess it will eventually find its way to my door. I'm putting up some pottery pictures on the photo album--check them out.
November 30, 2015
Artistically Modified -- I finished the 10 paintings and 5 drawings on time for the show
to open as scheduled on Nov 20. Deadlines are such a motivating factor!
I want to thank all my family and friends and others who braved the snowstorm to come to the opening.
See the sidebar for a picture from the opening and a picture of my "winter studio" aka my kitchen. The
paintings were finished in my un-heated garage/studio before it got too cold to work out there, but the
drawings had to be done in the kitchen and back-room studio space.
August 5, 2015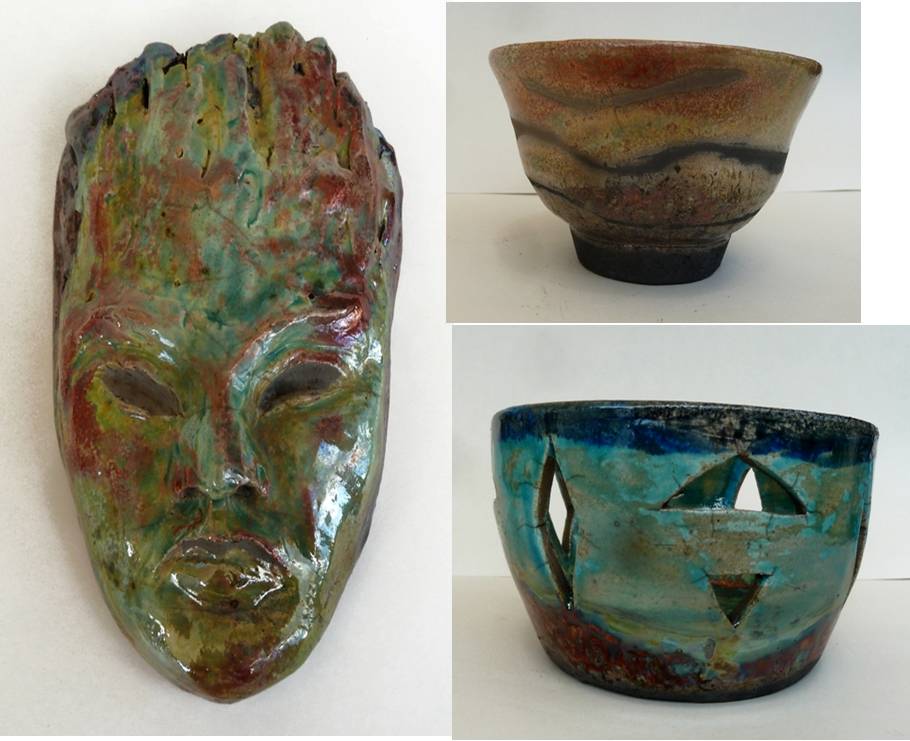 Some pieces from the last raku firing in Fairplay.
I finally got my winter studio moved to my summer studio so some new work will be coming soon from beautiful Pine Grove.
May 11, 2015

New space at a Borgata--in the antiques area.
Here is my space at a Borgata. Pottery, woodblock prints, painted mirrors and shelves, cemetery photos, etc. If you're ever in the mountains (for those who don't live here), stop in at a Borgata at the Safeway shopping center in Conifer, right off of Highway 285. I'm there on Tuesday afternoons--1pm to 5:30 pm. Stop in and say hi.
The 4th Annual Denver Silent Film Festival was April 24, 25, 26--as always, there were some great old films. This year I designed the poster and program cover. See sidebar for a photo of the poster. Kitty, Gail and I always have a fun time dressing in our best 1920s outfits and helping out with ticket-taking, greeting, etc. Poster photo bottom right.
January 23, 2015



Ab

ove are some of my latest pottery items. I like the new commercial glazes I bought--Amoco--Potter's Choice glazes. I have mostly been layering two glazes per pot. My favorite is below--deep firebrick under and ancient jasper over.

I am still struggling with making good pots, but am having fun with my experiments. I'm hoping to have enough pots to rent a booth at the Pine Grove Rhubarb Festival in June. Let's see if I can make that happen.

October 2, 2014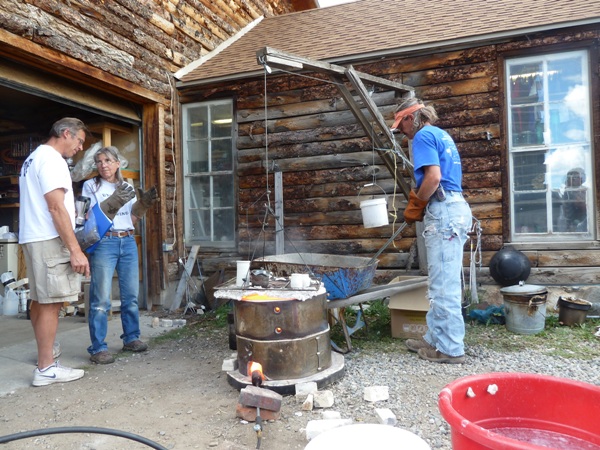 Raku firing Fairplay/South Park Pottery/Coyote Creek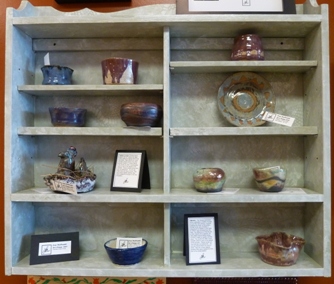 Here's a close-up of the new display at A Borgata. Also, see sidebar for full wall shot. I'm continuing to work on making new pottery vessels, etc. We did a raku filing in Fairplay a couple of weeks ago and there are new pieces from that firing. Now that I have my own wheel at home (thank you David Brady), I will be making more pots, etc., and am hoping more time on the wheel will reflect in my skill improvement. I'm almost finished with painting the kid table and chairs so that should be out of my studio and into the marketplace soon. It snowed here last night so I brought in all my paints and clay so it wouldn't freeze in the studio overnight. Today, a trip to Fairplay/Coyote Creek Studios to make some more pots. My trip to Detroit was interesting; Pewabic Pottery was interesting and inspiring.
July 30, 2014
---

This is part of my current display at a Borgata in Conifer. I will be changing the display soon when I get some painted furniture pieces finished.
July 21, 2014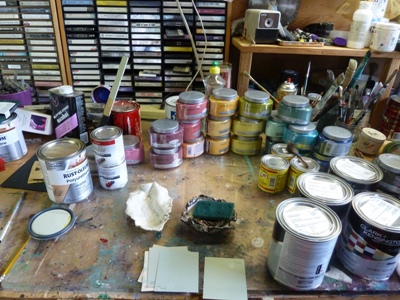 There is potential here in my up and coming furniture painting studio. At least the materials are here (and lots of cassette tapes to paint to). See sidebar for a before picture of a table I'm working on. I have several items in the works, but nothing new that is done. At least there is progress.

Meanwhile, clay projects are coming along, too. I still suck at throwing pots, but at least there is some improvement. Another glaze firing is happening this week and we did a raku firing on July 13--pictures coming.
April 13,2014
Tonight I'm using my iPad so no visuals. My latest art passion is clay. I'm reading about glazing and firing. I plan to take a few classes and buy a kiln. I have big ideas and hope to put them into action before I lose interest. I watched a few videos on youtube so I'm getting inspired. I bought clay and some commercial glazes. I have three boats ready to be fired. I'll post a picture if they turn out. I am waiting for warmer weather so I. Can work in my unseated studio. So, I hope to have something new to post next time!
February 11, 2014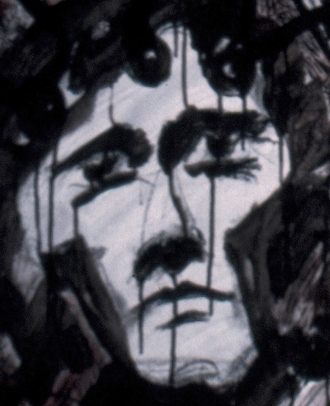 Antoine Artaud Detail from Creative Dissonance project 1997

I thought I'd talk a little about "Creative Dissonance", a project I created in 1997, which was the reason for joining Edge Gallery that year. I created a series of seven drawing/paintings that were approximately 48" w x 36" h on the back of two 12' x 4' drawings. I then cut them up into the smaller sizes. Why waste good paper? I'm always trying to get the most out of materials and often recycle used "stuff" into my work. I was out of graduate school for about 4 years when I began the drawings. I was frustrated because I was working full time and didn't have much time to be creative. So, I aligned myself with other poor starving artists and writers from the past and created this angst-driven series that I wanted to show.

I didn't want it to be a negative show, even though the work was not exactly up-beat. I decided to involve kids in the project and create an installation with the drawings as the basis. I recruited some kids from the neighborhood through the local junior high school. Together we created the installation. I hung the drawings out from the wall on clear filament. The students and I painted the walls a light green. I bought some darker green paint which was for them to create plants on the walls that represented growth and creativity. It was the backdrop for drawings that each of them were encouraged to create on the walls around the paintings. It took them a little while to get into it and if we had more time, there would have been more kids' art. However, they all worked together and created an interesting space. I also photographed the process and put black and white photos of the students up on the title wall. There was also a soundtrack that was created by the kids. I gathered writings by and about all of the artists in the show: included were: Antonin Artaud, Judy Chicago, Rembrandt, Charles Baudelaire, David Wojnarowicz, Eugene Delacroix, etc. I made a book of the writings for each of the students. They, in turn, read the writings into the soundtrack. Sometimes one student read alone, other times they read as a group. They got to keep the book of writings and each also got an album of the photos of the entire process. See installation view to the right.

This was a fun and challenging project. 7th graders have a lot of energy and focusing is not always easy; however, we had a dedicated group and they pulled off the project with a short amount of time for installation. We started on a Monday and finished Thursday night. The opening was on Friday. This was a learning experience for all the collaborators, including me.
February 3, 2014
This is something I'm trying out to see if I can keep it up and figure out if occasionally I might find something creative to say. I'd like it to be about what I'm currently up to and more. The "and more" leaves it open to just about anything. This really isn't an official blog since it is just a page on my website, but it should work--won't get blog traffic, but that is ok.
This year I'm giving up my Edge Gallery show slot to my very talented friends, Don and Kathryn Wenderski who will surprise me on November 14 with their creations. They recently did a performance art piece at Denver's Museum of Contemporary Art. Kathryn is, in addition to being a visual artist, an awesome pianist and they did a bit where she played piano while Don recreated her daydream. I think I can put up a photo on this page--to the right, I believe.
Once upon a time I had a very pretty Yahoo blog that lasted about a year or so until they changed their format and it all went away. If I get desperate for new material, it could be a source for old material.
There is a link on my main page to the Denver Silent Film Festival (www.denversilentfilmfest.org). Along with my friends, Gail and Kitty, I am volunteering for my third year as a greeter/ticket taker/whatever is needed person-- to help this great new festival, now in its third year. Begun three years ago by Montine Hansl and Howie Moskowicz, this year's films are being shown at the King Center on the Auraria Campus on Feb 28 and March 1. They are really wonderful old films that continue to surprise me with their creativity and uniqueness. Live music accompanies the films and a gala event will be held at the Governor's Mansion on opening night. Check out the website and get your tickets and c'mon down!
Art-wise, I'm just playing--without the pressure of having a show coming up. I may paint my kitchen in the near future, but not making any art promises.
I'm trying to get it together to open a booth in an Antique Mall in the near future. I will be doing painted furniture, wall art, fairy tale prints and antiques. Right now my studio is too cold to work in so I'm just thinking about it until spring arrives.
j